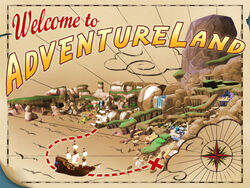 AdventureLand is a location that appears in World of JumpStart. It contains activities that are mainly designed to teach math and language arts skills for ages 5-8.
Appearance and Features
AdventureLand mainly consists of two islands: Training Island and Lost Island. Punk-Punks frequent both islands, particularly Lost Island. The climate of both islands is rather tropical, and they contain many palm trees, mountains, and waterfalls.
Locations in AdventureLand
Training Island
Lost Island

Base camp
Town of Lost Shores
Mystic Mountain
Punk Punk Valley
Gallery
External Links