Bucket Bash is an activity in JumpStart Math for Second Graders.
Premise
Ratso has set up gates to block passageways in the castle. The gates can only be opened by filling a bucket with an exact number of stones.
Description
The number on the bucket indicates the amount that must be put in it. The player must click and drag stones with numbers on them into the bucket. The sum of the numbers on the stones must match the number on the bucket. A banner keeps track of how many stones the player has put in the bucket. When the player thinks they have correctly filled the bucket, they must pull the lever. If the bucket has the correct amount, the gate will lift, but if not, then CJ and Edison are sent to the dungeon.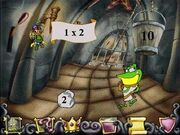 Oh, this is ingenious. Ratso has scattered gates throughout the passageways. Each gate requires an exact weight of stones in the bucket to lift it open.
Read the number on the bucket.
Drag one stone at a time to load the bucket with the correct weight.
Edison will display a banner giving you a running total of how many numbered stones you've used.
When you're ready to make a guess, pull the lever.
Can you lift the gate, or will you be locked behind even more bars--in the dungeon?
SKILLS: Addition, multiplication