The Bulletin Board (known as the Calendar in the 1994 version) is an activity in JumpStart Kindergarten (1994) and JumpStart Kindergarten (1998). It is designed to teach the months of the year for kindergartners.
The activity is accessed by clicking on the bulletin board in the classroom, which in the 1998 version is on the right side of the classroom.
Description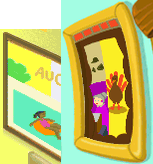 On the Bulletin Board, there are twelve tabs displaying the names of the months of the year. The player can click on the tabs to see different pictures for each month. Each picture shows a holiday or seasonal activity that happens during that month, and displays a short animation. Hopsalot tells the player information related to the pictures.
The bulletin board will display the current month by default, and its appearance outside of the activity will change depending on the month as well.
In the 1998 version, a feature was added where the player can place a gift box on the month that their birthday occurs in. Then, when that month occurs, the classroom will have special decorations to celebrate the player's birthday. No stars can be earned from this activity.
1994 version
Learn about months, holidays and seasons
From the classroom, click on the bulletin board above the sink. The purpose of this activity is to introduce children to the months and holidays in the calendar. The calendar page you will see is set according to the internal calendar on your computer. Listen to the explanation for the subject of that month. Click around the calendar page to see different animations. To learn about another month's holiday or season, click on the name of a month at the bottom of the screen. To return to the classroom click on the arrow on the upper left portion of the screen.
1998 version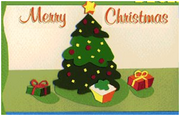 Object
The Bulletin Board is changed every month.
Click on the holiday pictures associated with each month to see a fun animation.
Drag the gift (upper left corner) to your child's birthday month for a treat when that month arrives!
To return to the classroom, click on the arrow in the lower left of the screen.
Educational Benefits
Your child will learn about months, holidays, and seasons.
Gallery
1994 version
1998 version
Community content is available under
CC-BY-SA
unless otherwise noted.