JumpStart Advanced 2nd Grade: Fundamentals is a game originally released in 2002, then titled JumpStart Advanced 2nd Grade. It has since then been re-released alongside other various JumpStart Advanced 2nd Grade products.
Characters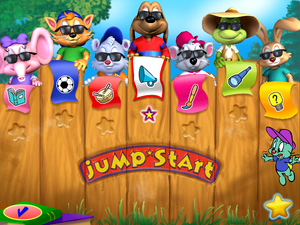 See also: The JumpStart All Stars
Story
The dastardly villain Dr. O is creating problems for JumpStartville. Hopsalot has the task of creating inventions to reverse the damage of Dr. O's schemes. CJ and Edison need to collect gadget peices for Hopsalot so he can build the inventions. CJ and Edison have to travel to different locations around the world and contact agents that can help. When all the gadget pieces are collected, CJ and Edison can head to Hopsalot's Invention Lab. There, they must assemble the gadget pieces in a way that will activate the gadget.
There are five missions:
Clean graffiti off of Mount Jumpmore with the Soapy Shooter invention.
Save CJ's house from sinking into the swamp with the Inflatomatic Island Pump invention.
Unfreeze the JumpStart Lake with the Lake Liquefier invention.
Remove worms from the schoolhouse with the Worm Vacuum invention.
Capture Dr. O in his hideout before he escapes with the Snail Cage Trap invention.
Locations
North America

New Orleans, United States

South America
Europe

Paris, France
Moscow, Russia

Africa
Australia
Antarctica
Activities
Educational Concepts
Math
Comparing Numbers
Ordinals
Odd/Even Numbers
Roman Numerals
Addition without Carryover
Addition with Carryover
Subtraction without Borrowing
Subtraction With Borrowing
Basic Multiplication
Pre-Algebra (missing variable)
Time
Fractions (halves, thirds, fourths, eighths)
Money
Estimation
Reading
Blends and Digraphs (oy-oi, ou-ow, ew-ue, ur-ir-er, ea-ie, are-ear-air, aw-au-al-all)
Vowels (vowel pairs, short and long vowels)
Compound Words
Vocabulary
Reading Comprehension
Syllables
Writing
Spelling
Alphabetizing (alphabetizing words with different first letters, alphabetizing words with the same first letter)
Punctuation and Capitalization (ending punctuation, commas, quotation marks, apostrophes)
Contractions
Parts of Speech (nouns, verbs, adjectives, adverbs, pronouns, synonyms, antonyms, homophones)
Visual Discrimination
Shapes and Forms (circle, square, rectangle, parallelogram, trapezoid, cube, sphere, pyramid)
Sizes
Spatial Awareness
Science
Life Science (plant life cycles, animal life cycles)
Art
Visual Arts (colors, painting types)
Music
Credits
See JumpStart Advanced 2nd Grade: Fundamentals/Credits
Trivia
Several differences from the actual game are depicted in images from a folder titled "2G_Images" on the CD. These may indicate features which were considered for the game during production, but did not make it into the final product.

In the game's third mission, Dr. O turns the JumpStart Lake into ice cubes. However, an image from the CD depicts the lake as being turned into cubes of jello instead.
In the game, New Orleans has two tents which leads to the mini-game, but an image from the CD depicts a red piano in place of the tents. Similarly, in the game, the Australian mini-game was accessed by clicking on a jeep. In an image from the manual, the jeep is absent, and instead there is a kangaroo design on one of the rocks.
There are two alternate designs for the Louvre basement, both of which differ from the game's design.
The Brazilian agent, Lucita, has a very different appearance. She wears an entirely different outfit, and lacks curly orange hair.
Dr. Lucicle, the Antarctic agent, was apparently going to be called Dr. I. Cycle.
Gallery
Screenshots
Box Art
Videos
References
Community content is available under
CC-BY-SA
unless otherwise noted.