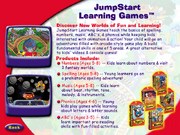 The JumpStart Learning Games series is a sub-series of JumpStart games released from 1998 to 1999. All of the games in this series were developed by Funnybone Interactive, and focus on teaching a specific skill/subject while not being designated for a single grade level.
List of Games in the Series
Series Description
The JumpStart Learning Games series games are intended to teach the basics of a specific skill, while incorporating arcade-style gameplay. The games were also priced lower than most other JumpStart games, reflected in the slogan used for the series: "Big-Size Game Play, Small-Size Price". Games in this series tend to have fewer activities than most JumpStart games.
Trivia
Coincidentally, a series of JumpStart toys released by ToyMax in 1999 were also referred to as "JumpStart Learning Games". Despite the similar naming, these toys were not based off of the JumpStart Learning Games series, but rather other older JumpStart games.
External Links
Community content is available under
CC-BY-SA
unless otherwise noted.