Not to be confused with the workbook of the same name.
JumpStart Math for Second Graders, originally known as JumpStart 2nd Grade Math, is a game released in 1997 that focuses on a second grade math curriculum.
The villainous Ratso and his gang have taken over the castle and imprisoned the royal family. CJ, the royal flycatcher, sees his chance to become a knight. He and his best friend Edison go on a quest to rescue the Royal Prisoners and dethrone Ratso.
Characters
Plot and Gameplay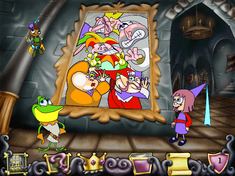 Ratso has trapped five Royal Prisoners inside of a mirror. In order to free them, CJ and Edison need to collect ingredients for magic potions. Each potion will set one of the prisoners free. The prisoners will specify which location in the castle CJ needs to visit to collect the next ingredient. Once CJ and Edison have all of the ingredients, they must return to the mirror to make the potion.
There are many activities in the castle. Each time CJ completes an activity, he earns one bravery point. He needs 100 bravery points to challenge Ratso.
Locations and Activities
First Floor
Second Floor
The Treasury - This location has two activities. In the first activity, you need to turn coal into gems. Move the coal around the maze and into different holes to change its attributes. You need to create a gem with the attributes specified in the instructions. When you have created the correct type of gem, move it into the exit hole. In the second activity, you need to analyze graphs and select the correct answers to the questions. Answering the questions will give you the numbers you need to unlock the vault.
The Stained Glass Room - Look at the missing parts of the window. Cut out shapes from the glass panes to fill the missing areas. First, pick a glass pane of any color and place it over the grid. Click on any spot on the grid to begin making a cut. You can only make straight lines, either horizontal, vertical, or diagonal. Continue making lines until you have created a shape. Then click and drag it to a spot on the window.
Ratso's Lair - Ratso resides in the throne room. You can't get in until you've freed all of the prisoners and collect 100 bravery points.
Ratty Challenges
Ratso has set up several challenges around the castle to hinder CJ. If CJ fails to complete a challenge, he'll be sent to the Dungeon.
Ratso's Final Challenge
After you've freed all of the prisoners and collect 100 bravery points, you're ready to challenge Ratso. You need to beat Ratso in a game of "Tic Tac Ratso". You have to decide whether the person occupying the square has the correct answer to the Princess's question. Select either 'true' or 'false'. If you get it right, you get the square. You and Ratso take turns guessing. The goal is occupy three squares in a row.
Potions and Ingredients
Cook's Potion
Royal Eggbeater
Royal Cookbook
Spatula
Dentures
Squire's Potion
"Ye Olde Super Tanne" Lotion
"Lance-a-Lot" Cologne
Six Pack of "King Cola"
Electric Lute
Jester's Potion
Juggling Balls
"10001 Dragon Jokes" book
Banana Peel
Joy Buzzer
Queen's Potion
Box of Chocolates
"Better Homes and Castles"
"The Royal Workout" book
Royal Seal
King's Potion
Crown Polish
Teddy Bear
Map of Kingdom
Scepter
Educational Concepts
Addition and Subtraction
Multiplication
Telling Time
Money Value
Basic Geometry
Logic and Problem-Solving Skills
Word Problems
Fractions
Data Analysis/Graphing
Songs
Re-releases / Bundles
In 1999, JumpStart Math for Second Graders and its kindergarten and first grade counterparts were packaged and sold together as the JumpStart Math Mastery bundle.
It was also packaged with JumpStart Reading for Second Graders and JumpStart Explorers in the JumpStart 1st-3rd Grade Learning Playground bundle in 2002. When re-released in this way, the game was retitled to simply be called JumpStart Math.
Credits
See JumpStart Math for Second Graders/Credits
Associated Books
The workbook JumpStart 2nd Grade Math Workshop appears to be somewhat inspired by this game.
Gallery
Screenshots
Promotional Images
International Box Art
References
Community content is available under
CC-BY-SA
unless otherwise noted.