JumpStart Music
is a game in the
JumpStart Learning Games series
released by
Knowledge Adventure
in 1998. It teaches music skills for grades preschool through third grade.
It was later re-released in 2003 as JumpStart Advanced 1st Grade: Music.
Hopsalot gets transported to the Land of Music, where the villainous Sir Sournote has soured all of the musical notes. Hopsalot must collect the soured notes and bring them to the Concert Hall to make them sweet again.
Characters
Gameplay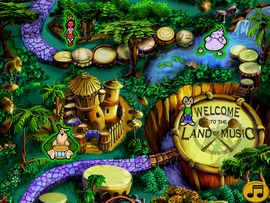 Travel around the Land of Music and play different activities to find sour notes. Move Hopsalot down the roads of the Land of Music with the mouse. When Hopsalot is next to an activity spot, click on it to play the activity. When you successfully complete an activity, you'll find one or more sour notes. Catch the sour notes and put them in the bag. When you have found all of the sour notes in an activity spot, a red glow appears around it. If an activity spot is glowing green, that means there are still sour notes to be found there. After you find all of the sour notes, take them to the concert hall to restore them to their original state and make the music sweet again.
Activities
Songs
Credits
Gallery
Screenshots
Boxart
Videos
External Links
References
↑ Knowledge Adventure. All-New "JumpStart Learning Games™" Makes Great, Low-Cost Alternative To Kids´ Videos. Archived September 2, 2000. Retrieved September 14, 2019.
Community content is available under
CC-BY-SA
unless otherwise noted.