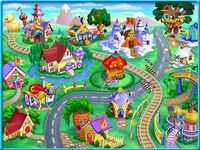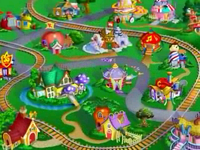 JumpStartville is a location that served as a main setting for most JumpStart media from roughly 2000-2002. It contains many buildings and landmarks that have appeared in JumpStart games, and many JumpStart characters have been depicted as living here.
History of Appearances
JumpStartville was first depicted around the early 2000s. It briefly appeared in the opening cutscene for JumpStart Around the World. It is the setting for the JumpStart Advanced series, as well as JumpStart 3 Ring Circus.
Around 2000-2002, JumpStartville appeared on the JumpStart website as the preschool to second grade equivalent of Adventure World. The two locations referenced each other on the website; JumpStartville's artwork featured an entrance to Adventure World, and Adventure World's artwork featured a blimp to JumpStartville.
In JumpStart Around the World, JumpStartville is shown as being located on an island off the coast of California.
JumpStartville can also be seen in the video JumpStart Jukebox. Certain locations in JumpStartville are also depicted in the Briarpatch JumpStart jigsaw puzzles.
JumpStartville's last notable appearances in JumpStart media were in the JumpStart Advanced series, and it has ceased to appear in JumpStart media since then.
Locations in JumpStartville
In the Games
The Ringling Bros. and Barnum & Bailey circus comes to JumpStartville.
The player can visit several different locations in JumpStartville, such as each of the JumpStart All Stars' houses.
Dr. O hatches various schemes to cause trouble in JumpStartville, such as freezing up the JumpStart Lake and painting graffiti all over Mount Jumpmore.
In Videos
The WJSV radio station in JumpStartville is the setting for the video, and other locations in JumpStartville can briefly be seen at the very beginning of the video.
Trivia
In certain European JumpStart releases, JumpStartville is renamed to Frankie Town, as a reference to JumpStart's mascot.
External Links
Community content is available under
CC-BY-SA
unless otherwise noted.