This article or section needs some help. You can give JumpStart Wiki a hand by adding:

pictures of all the stamp pages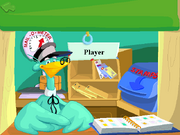 The Mail Room or Post Office is a location in JumpStart 2nd Grade.
Description
The player can visit the mail room to access letters they've received from pen pals, and their stamp collection. Mr. Brewster sits at a desk in the mail room and instructs the player on what to do.
The player has to win 100 points in order to earn a stamp to the collection. There are stamps in six sections of the stamp book.
When the player has completed a challenge and is ready to send a letter back to a pen pal, they must visit the mail room to choose a stamp from their stamp collection to send the letter.
Animals
Ant
Chimpanzee
Flamingo
Frog
Giraffe
Manatee
Peacock
Penguin
Rabbit
Squirrel
Fairy Tales
Beauty and the Beast
The Ugly Duckling
Cinderella
Goldilocks
Hansel and Gretel
Jack and the Beanstalk
John Henry
Little Red Riding Hood
Paul Bunyan
Peter Pan
The Princess and the Pea
Rapunzel
Robin Hood
Rumpelstiltskin
Sleeping Beauty
Snow White
Thumbelina
History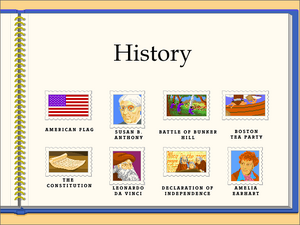 American Flag
Susan B. Anthony
Battle of Bunker Hill
Boston Tea Party
The Constitution
Leonardo da Vinci
Declaration of Independence
Amelia Earhart
Thomas Edison
Galileo Galilei
Geronimo
Martin Luther King, Jr.
The Liberty Bell
Dolley Madison
Florence Nightingale
Olympic Games
Pablo Picasso
The Pilgrims
Paul Revere
Eleanor Roosevelt
Betsy Ross
Sitting Bull
Spirit of '76
Statue of Liberty
Harriet Tubman
White House
Presidents
George Washington (1789-1797)
John Adams (1797-1801)
Thomas Jefferson (1801-1809)
James Madison (1809-1817)
James Monroe (1817-1825)
John Quincy Adams (1825-1829)
Andrew Jackson (1829-1837)
Martin Van Buren (1837-1841)
William Henry Harrison (1841)
John Tyler (1841-1845)
James K. Polk (1845-1849)
Zachary Taylor (1849-1850)
Millard Fillmore (1850-1853)
Franklin Pierce (1853-1857)
James Buchanan (1857-1861)
Abraham Lincoln (1861-1865)
Andrew Johnson (1865-1869)
Ulysses S. Grant (1869-1877)
Rutherford B. Hayes (1877-1881)
James A. Garfield (1881)
Chester Alan Arthur (1881-1885)
Grover Cleveland (1885-1889)
Benjamin Harrison (1889-1893)
Grover Cleveland (1893-1897)
William McKinley (1897-1901)
Theodore Roosevelt (1901-1909)
William Howard Taft (1909-1913)
Woodrow Wilson (1913-1921)
Warren G. Harding (1921-1923)
Calvin Coolidge (1923-1929)
Herbert Hoover (1929-1933)
Franklin D. Roosevelt (1933-1945)
Harry S. Truman (1945-1953)
Dwight D. Eisenhower (1953-1961)
John F. Kennedy (1961-1963)
Lyndon B. Johnson (1963-1969)
Richard M. Nixon (1969-1974)
Gerald R. Ford (1974-1977)
Jimmy Carter (1977-1981)
Ronald Reagan (1981-1989)
George Bush (1989-1993)
Bill Clinton (1993-present)
Space
Apollo-Soyuz Mission
Asteroids
Comets
Earth
First Man of the Moon
First Person in Space
Getting to the Moon
Hubble Telescope
Jupiter
Mars
Mercury
Milky Way
Moon
Neptune
Pluto
Satellites
Saturn
Space Capsule
Space Shuttle
Star 51 Pegasus
The Sun
Universe
Uranus
Venus
Vehicles
Bulldozer
Cherry Picker
Concorde
Cruise Ship
Dragster
Dump Truck
Fire Truck
Helicopter
Motorcycle
Police Car
Sailboat
Taxi
Train
Trolley
Wright Brothers' Airplane
Gallery