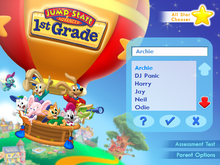 The sign-in screen is a feature found in virtually every JumpStart game. It appears when the game first starts and enables the game to keep track of different players' progress. It consists primarily of a scrollable list of players' names and a box in which a new name can be entered. In order to play the game, a user must either choose a previously-entered name or type in a new one.
In many games, the player's name can have a maximum of 12 letters. In most of the JumpStart Advanced games, the sign-in can contain a maximum of 99 names.
Many games give the player the option to delete a name, usually by clicking on it and pressing both the Control key and the Delete key. This will delete all of the data saved under that player's name.
In JumpStart Advanced games (barring re-releases) and other games made during the same time period, the names on a sign-in screen are shared between games, and deleting the name from one game removes it from all games.
The sign-in screens often have hosts, such as a bluebird in both versions of JumpStart Kindergarten and Mr. Brewster in JumpStart 2nd Grade and Botley in JumpStart Typing.
Gallery
Community content is available under
CC-BY-SA
unless otherwise noted.