Windy Hollows is a magic and witchcraft-themed location in World of JumpStart. It is intended for all ages. It was initially released as a FunZone in MainStreet[1], but was announced as its own area in the game on November 18, 2010.[2] It is also featured in the graphic novel JumpStart Windy Hollows.
Description
Windy Hollows allows players to access many fantasy-themed activities and areas. Various ingredients for Charm potions are scattered throughout Windy Hollows, which players can freely collect. While in Windy Hollows, the number of each type of ingredient that the player has collected will be displayed at the top of the screen.
A feature exclusive to Windy Hollows is the ability to fly on magic brooms. The player can select a magic broom, then fly around Windy Hollows, and control the broom's direction using the arrow or WASD keys. While in Windy Hollows, the player also has the ability to freely equip their Jumpee with a wand, which can be used to cast spells on other players and turn them into numerous creatures and objects.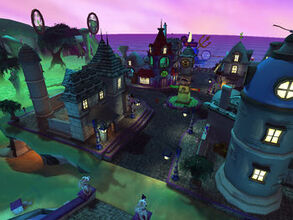 Windy Hollows also contains portals to MainStreet and Poseidon's Hangout.
Activities Within Windy Hollows
Charm Creator - Players create Charm potions to transform other Jumpeez.
BroomBall - A sport played on broomstick.
Bubble Maze - An activity starring Poe the frog. The player's Jumpee will be contained in a bubble that the player must move through a maze of clouds while avoiding obstacles that could make the bubble pop.
Locations Within Windy Hollows
Charms Building - Allows players access to the Charm Creator activity.
Comic Book Shop - Here, the player can preview the first several pages of the Windy Hollows graphic novel, and read other fan-submitted comics.
Broom Closet - Here, the player can select a broom to fly on. Once a broom has been selected, the player will be able to fly around Windy Hollows while using the arrow keys to control the direction of the broom. This can only be done in Windy Hollows.
Wands 'R' Us - Here, the player can purchase various wands designed to enhance certain types of spells.
Magic Marsh - A large swampy area on one end of Windy Hollows.
The Magical Fortune Telling Firepit - Here, players can submit questions to receive advice and answers. This feature is only available to subscribed members.
The Secret Room - Here, ingredients for potions appear more quickly, making it easier for players to stock up on them.
Gallery
References
Community content is available under
CC-BY-SA
unless otherwise noted.